Auto tuli hankittua vuonna 2009 täysin ajokuntoisena. Vuosien 2009-2013 aikana autosta tuli tehtyä parikin eri versiota eli EVO1 ja EVO2. Autolla on nyt tehty parikin pidempää reissua Keski-Eurooppaan ja pisimmän eli 2014 reissun pituudeksi tuli yli 5000 km. Reissun aikana tuli laitettua tekniikka äärirajoille vauhdikkaalla alppiserpentiiniajolla. Sen tuloksena selvisi kohteita, joita täytyy ehdottomasti kehittää niin tekniikan kestävyyden kuin turvallisuudenkin kannalta. Nyt onkin käynnissä EVO3 WRC version rakentamisen kesää 2015 varten.
Huom: Sivut ovat siirtyneet toiseen domainiin ja kaikki sivut eivät välttämättä vielä ole ajan tasalla!
Laukaassa 8. tammikuuta 2015
Jyrki Hämäläinen

Welcome to my MG Midget MK1 home pages.
The original MG Midget was purchased 2009 in fully drivable condition. However, it was far from authentic condition even being from California and thus it was totally rust free. I have restored the car several times
as I haven't being happy with the end results (EVO1 and EVO2). I have made several long tours with the car and specially during the 2014 European tour, I found several things in the car that must be done differently or to be added. At the moment the EVO3 WRC version is under progress and should be finished before summer 2015.
Note: These pages have been moved to another domain and all the pages are not yet up to date!
Laukaa 8th of January 2015
Jyrki Hämäläinen, Laukaa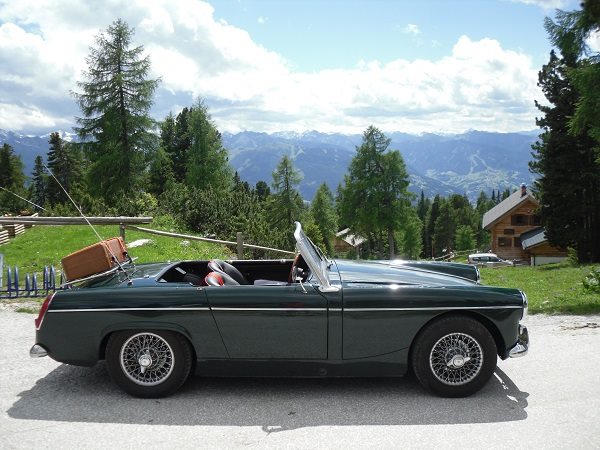 MG Midget Stoderbrinkenin huipulla (2050m) Itävallassa 2014
MG Midget at the top of Stoderbrinken in Austia 2014
---